Paying with MyZaka Mascom Money
For a customer to register for MyZaka they have to be a registered Mascom subscriber. Customers can register for MyZaka at an authorized MyZaka agent or a Mascom shop.
The MyZaka Visa Card can be used for both over the counter and online payments
MyZaka Physical Visa Card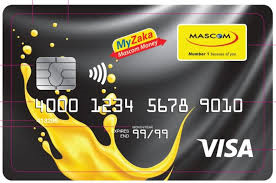 The physical card is valid for 3 years and can be used to make online payments, swipe at points of sale and withdraw at ATMs locally and internationally. The physical card is applied for at Mascom Shops. Customers should bring their identity document (Omang for citizens and Passport for foreigners), proof of residence (example: lease agreement or utility bill), and proof of income (example: latest pay slip or employment letter). If a customer does not have a proof of income or proof of residence document, the customer can complete an affidavit form provided by Mascom at the shop, or can be printed off the Mascom website www.mascom.bw, The affidavit must be stamped by an official authority.
The MyZaka physical Visa card fee is P35.
The virtual card is valid for 24 hours can be used for online purchases. The virtual card is created by the customer using the MyZaka USSD menu:
Dial *167#
Select Option 5 – Visa Card
Select Option 1 – Create Virtual Card
Enter MyZaka PIN
You will get a notification that you have successfully created your virtual card and your virtual card number and CVC details will be received via SMS.
The MyZaka virtual Visa Card is created for free.